Coronavirus Lockdown and Curfew Extension Highlights, Covid-19 Cases and Deaths in India Highlights: India reported below 3 lakh new coronavirus infections for a sixth consecutive day. The country saw 2,57,299 new COVID-19 cases and 4,194 deaths in the last 24 hours, according to Health Ministry's data released on Saturday. With the fresh cases, India's Covid-19 tally increased to 2,62,89,290. Overall positivity rate has continued its downward journey; it has dropped to 12.45%. As many as 303 districts have witnessed a drop in positivity rate, compared to 210 districts in the previous week, which suggests that the worst of the second Covid-19 wave may be over. Active caseload also dropped to 29,23,400 and now comprises 11.12% of India's total caseload. The National COVID-19 recovery rate also improved to 87.76%. However, the number of fatalities remains above 4,000. The country has so far seen over 80,000 deaths in May, which is the highest for any month since the pandemic has struck the nation,
Also read: Expect Covid-19 containment from August but serious work ahead, says Global expert Bhramar Mukherjee
In the meantime, India has crossed the 19-crore milestone in cumulative vaccination coverage. Out of which 10 states account for over 66%. Uttar Pradesh, Maharashtra, and Rajasthan top the list in vaccine coverage, according to Union Health Ministry data.
Also Read: CoWIN launches key OTP upgrade; here's how you can register using 4-digit code – Complete Guide
Also Read: Covid-19 Vaccine Certificate: Here's how to download it from CoWin portal, Aarogya Setu app
As the world's second-most populous nation tries to find a way out of the second wave of coronavirus infections, here are the latest, confirmed updates on Covid-19 from India and around the globe:
Maharashtra's COVID-19 tally rises to 55,53,225 with 26,133 new cases, death toll reaches 87,300 after 682 more people succumb to the disease; recoveries surge to 51,11,095: State Health Department (PTI)
Active COVID-19 cases in Uttar Pradesh dropped below 1 lakh on Saturday and settled at 94,482, an official said. The infection tally in the state mounted to 16,65,176 with 6,046 fresh cases, while 226 more fatalities pushed the death toll to 18,978. Of the 226 new deaths, state capital Lucknow recorded 21 fatalities, followed by 14 in Varanasi and 12 in Gorakhpur and Kanpur and Meerut 10 each, among others, the UP government said in a statement here. Gorakhpur reported 755 new cases, Meerut 421, Deoria 292, Lucknow 291, Varanasi 231, Gautam Buddh Nagar 213 and Bulandshahr 201. In the past 24 hours, 17,540 COVID-19 patients have recovered from the disease, taking the total number of cured persons in the state to 15,51,716. Additional Chief Secretary (health) Amit Mohan Prasad told reporters that the recovery percentage of the state is over 93 per cent. The number of active COVID-19 cases in the state stands at 94,482. On April 30, there were over 3.10 lakh active cases in UP, Kumar said. More than 3.06 lakh samples were tested for COVID-19 in the past 24 hours, taking the total number of samples tested in the state over 4.64 crore. UP has become the first state to conduct over three lakh tests in one day, Kumar said. (PTI)
The Delhi government is likely to extend the ongoing lockdown by another week, although the Covid situation is improving in the city with less number of cases and declining positivity rate in the past few days, official sources said on Saturday. Chief Minister Arvind Kejriwal had first imposed a lockdown on April 19 which was later extended multiple times, lastly on May 16. In the last 24 hours, around 2,200 cases were reported in the city and the positivity rate too declined to 3.5 per cent, Kejriwal said in an online briefing earlier in the day. | Read More
Gujarat reports 4205 new COVID-19 cases, 8445 recoveries and 54 deaths in the last 24 hours.
Total cases 7,84,676Total recoveries 6,95,026Death toll 9523
Active cases 80,127 (ANI)
Haryana reports 5021 new COVID-19 cases, 11,327 recoveries and 98 deaths in the last 24 hours.
Total cases 7,33,628Total recoveries 6,78,220Death toll 7415
Active cases 47,993 (ANI)
Goa reports 1647 new COVID-19 cases, 2693 recoveries and 39 deaths in the last 24 hours.
Total cases 1,44,839Total recoveries 1,24,255Death toll 2341
Active cases 18,243 (ANI)
The Congress on Saturday questioned the government's statement that India will be in a position to vaccinate all of its adult population against the coronavirus by the end of 2021, and warned that if inoculations are not accelerated, it will not be possible to prevent a third wave. Senior Congress leader and former Union minister P Chidambaram said both the IMF and the WHO have cautioned India about the consequences of the slow pace of vaccination. | Read More
Partial coronavirus curfew in Uttar Pradesh extended till May 31: Govt statement (PTI)
Vaccination centres for 18-44 age group in Delhi to be closed due to shortage of doses, CM Arvind Kejriwal writes to PM Narendra Modi requesting immediate supply of jabs and increasing vaccine quota of the city (PTI)
Karnataka reports 31,183 new COVID-19 cases, 61,766 recoveries and 451 deaths.
Total cases 23,98,925Total recoveries 18,91,042Death toll 24,658
Active cases 4,83,204 (ANI)
West Bengal reports 18,863 new COVID-19 cases, 19,202 recoveries and 154 deaths in the last 24 hours.
Total cases 12,48,668Total recoveries 11,02,772Death toll 14,208
Active cases 1,31,688 (ANI)
Manipur reports 757 new COVID-19 cases, 652 recoveries and 13 deaths in the last 24 hours.
Total cases 43,322Total recoveries 36,258Death toll 674
Active cases 6390 (ANI)
Madhya Pradesh reports 3844 new COVID-19 cases, 9327 recoveries and 89 deaths in the last 24 hours.
Total cases 7,60,963Total recoveries 6,91,427Death toll 7483
Active cases 62,053 (ANI)
People not wearing masks properly will also be penalised. First-time offenders will be fined Rs 500, second-time offenders with Rs 700 and with Rs 1000 after that: Uttarakhand DGP Ashok Kumar (ANI)
Punjab: A 120-bed COVID19 Care Centre set up at Radha Swami Dera, Fatehpur in Amritsar.
A sevadar, Danish says, "Beds are made of cardboard for easy disposal. These were prepared in 7 days. 3 times meal, fruits, milk, tea will be given. We'll handover all this to the Dist Admnistration" (ANI)
The WHO is yet to reach a consensus on the vaccine passport issue for allowing international travel to those fully vaccinated against the coronavirus infection, the government said on Saturday and noted that discussions are still on. So far there's no consensus at the level of WHO over this, Health Ministry Joint Secretary Lav Agarwal said. | Read More
The "deadly and highly infectious" nature of the second wave of COVID-19 and "unpreparedness" of the national capital's health infrastructure forced citizens to visit hospitals in neighbouring states, the Delhi High Court said and rejected the Delhi government's argument that such patients should seek medical relief from the state where they are getting treatment. "This submission of respondent 1 (Delhi government) has been noted only to be rejected…. It is a matter of public knowledge that the deadly, highly infectious nature of the second wave of COVID-19 and the unpreparedness of the health infrastructure in the city had compelled many desperate citizens of the NCT of Delhi, like the petitioner's father, to seek admission/medical attention at hospitals in the neighbouring states," Justice Rekha Palli said. | Read More
Punjab: Social distancing flouted at Govt Girls College #COVID19 vaccination center in Ludhiana. It's our responsibility to maintain social distancing. There's rush after vaccination for 18 started. Till y'day around 7-8 lakh people vaccinated in Ludhiana: Councillor Mamta Ashu (ANI)
Punjab: Social distancing flouted at Govt Girls College #COVID19 vaccination center in Ludhiana It's our responsibility to maintain social distancing. There's rush after vaccination for 18 started. Till y'day around 7-8 lakh people vaccinated in Ludhiana: Councillor Mamta Ashu pic.twitter.com/2ubAZmtbI4

— ANI (@ANI) May 22, 2021
Corona Curfew imposed in all 20 districts of J&K till 7 am on 24th May is extended further till 7 am on 31st May. Curfew will be strict except for a few essential services. District Collectors being given limited flexibility to ensure economic activities do not suffer: DIPR-J&K (ANI)
Puducherry reports 1445 new COVID-19 cases, 2011 recoveries and 30 deaths in the last 24 hours.
Total cases 94,612Total recoveries 75,947Death toll 1325
Active cases 17,340 (ANI)
Andhra Pradesh reports 19,981 new COVID19 cases, 18,336 recoveries and 118 deaths in the last 24 hours.
Total cases 15,62,060Total recoveries 13,41,355Death toll 10,022
Active cases 2,10,683 (ANI)
28,514 new COVID-19 cases, 45,400 recoveries and 176 deaths reported in Kerala today. Total 20,25,319 recoveries and 7170 deaths in the state so far. Active cases 2,89,283: Kerala CM Pinarayi Vijayan (ANI)
Triple lockdown will continue in Malappuram dist. Restrictions will be tightened as test positivity rate is high. We'll conduct tests among 75,000 people on Monday & Tuesday. More police force will be deployed, directed them to take strict action against violators: Kerala CM (ANI)
Two doses from either the Oxford/AstraZeneca or the Pfizer vaccine are over 80 per cent effective in preventing infection from the B1.617.2 variant of COVID-19, first discovered in India, a new UK government study has reportedly found.
The Oxford/AstraZeneca two-dose vaccine is also being produced by the Serum Institute of India as Covishield and being administered among the adult population in India to protect against the deadly virus. | Read More
The Delhi Disaster Management Authority on Saturday directed authorised dealers and pharmacies selling COVID-19 medicines to display available stock and cost of the drugs prominently at their shops. In an order, the DDMA said it has been noticed that coronavirus patients are facing difficulties in procuring essential COVID-19 drugs on time and at the prescribed rates, causing hindrance in timely and effective treatment. The drugs are Ivermectin tablets, Doxycyclin tablets/capsule, Methyl Prednisolone tablets and injections, Dexamethasone tablets and injections, Budosenide Inhalers and Respules Favipiravir tablets, Apixaban tablets and Enoxaparin Sodium/ Clexane, it said. The order said it is necessary to disseminate proper and reliable information to people in respect of availability and pricing of these drugs. "… all authorized dealers/retailers/sellers of essential COVID-19 management drugs in the NCT shall display the information of stock position and MRP of all these drugs at conspicuous places at their business premises for information of general public," the order said. The order also directed the medicine sellers to update the stock position of these drugs four times a day — at 10 AM, 2 PM, 6 PM and 9 PM respectively. (PTI)
The COVID-19 caseload in Sikkim mounted to 12,808 as 287 more people tested positive for the infection, a health department bulletin said on Saturday. The death toll rose to 221 as one more person succumbed to the disease in the last 24 hours, it said. Of the new cases, 200 were reported from East Sikkim, 55 from South Sikkim, 25 from West and seven from North Sikkim. The Himalayan state now has 3,194 active cases, while 9,183 people have recovered from the disease, the bulletin said. As many as 210 COVID-19 patients have migrated to other states. Altogether, 1,09,173 samples have been tested for COVID-19, including 1,003 in the last 24 hours, it added. (PTI)
Delhi Chief Minister Arvind Kejriwal on Saturday said COVID-19 vaccination centres for those in the 18-44 age group have to be closed due to lack of doses, and wrote to Prime Minister Narendra Modi for immediate supply of jabs and increasing the quota of the city. As the country is facing a shortage of vaccine, Kejriwal gave four suggestions to Modi, including procurement of vaccines from foreign manufacturers and inviting firms for production in India. | Read More
As the lockdown like situation prevails in most parts of the country and the run of Coronavirus continues more menacingly during the second wave, social media feed and news related to Covid-19 sufferings is leaving a lot of people anxious and insecure. Since the Coronavirus has resulted in some kind of personal loss for a large number of people, the emotional breakdown and fear generated from Coronavirus related news is tormenting mental health and well being of people. The Covid-19 pandemic is not expected to end in the near future and it is essential to keep our mental health sane in order to deal with the situation better. | Read More
Delhi CM Arvind Kejriwal meets the family of 26-year-old Dr Anas, a doctor who succumbed to #COVID19, and hands over a cheque of Rs 1 Crore to them.
My son was on duty & serving people when he lost his life. I hope my other children may also serve our nation, says Dr Anas' Father (ANI)
Delhi CM Arvind Kejriwal meets the family of 26-year-old Dr Anas, a doctor who succumbed to #COVID19, and hands over a cheque of Rs 1 Crore to themMy son was on duty & serving people when he lost his life. I hope my other children may also serve our nation, says Dr Anas' Father pic.twitter.com/PlQBeSTyXe

— ANI (@ANI) May 22, 2021
A 55-year-old man who recovered from COVID-19 in Jabalpur has been detected with the white fungus or Aspergillu Flavus infection, making him the first to have the ailment in Madhya Pradesh, a health official said on Saturday. The man was operated on May 17 after his headache and eye pain did not subside, and a test on Friday detected the white fungus infection in his nose, Netaji Subhash Chandra Bose Medical College's ENT Department head Dr Kavita Sachdeva told PTI over phone. White fungus is curable with medicines and does not need injections like Mucormycosis, better known as black fungus, not is it as deadly as the latter, she said. (PTI)
With black fungus cases rising in Uttarakhand, it was declared a notifiable disease in the state under the Epidemic Act, 1897 on Saturday. So far, 64 people have been infected with black fungus in the state and of them, four have died. Black fungus or mucormycosis has been declared a notifiable disease for its co-ordinated treatment as a growing number of people are contracting the infection post COVID-19, Health Secretary Pankaj Kumar Pandey said. The state government also issued an SOP on Saturday for the judicious distribution of Amphotericin B, a drug used in treating black fungus patients. Amphotericin B should be provided to only government medical colleges, institutions and Covid-dedicated hospitals on payment after they formally requisition for its supply on the prescribed format giving details of the patients and nature of infection. (PTI)
Megha Engineering and Infrastructures Limited (MEIL) is importing liquid medical oxygen from Bangkok to be supplied to the Telangana government free of cost. The 11 cryogenic tanks would each contain 1.40 crore litres of medical oxygen. Three of the tanks landed at the Begumpet Air force Station here on Saturday, and the remaining eight would be arriving in a few days, a press release from MEIL said. In addition to top management of MEIL, Telangana Finance Minister T Harish Rao, a team of senior officers belonging to the advisory committee formed under State Chief Secretary Somesh Kumar have been supervising the operation, the release said. The Union Defence and External Affairs Ministries which have been supervising the whole exercise have granted permission for the smooth transport of the tankers from Bangkok. (PTI)
So far there's no consensus at level of WHO over this. Discussion still being done if vaccinated people will be allowed. As of now,as per WHO guidelines & guidelines by countries, people with negative COVID test report being allowed: Lav Agarwal, Joint Secy, Union Health Ministry
Relevant action will be taken when we reach the level when a consensus at the world level is reached, over vaccine: Lav Agarwal, Joint Secretary, Union Health Ministry on 'vaccine passport' (ANI)
Pandemic is stabilising in a major part of the country. Positivity rate is going down & active cases are going down: Dr. VK Paul, Member-Health, Niti Aayog (ANI)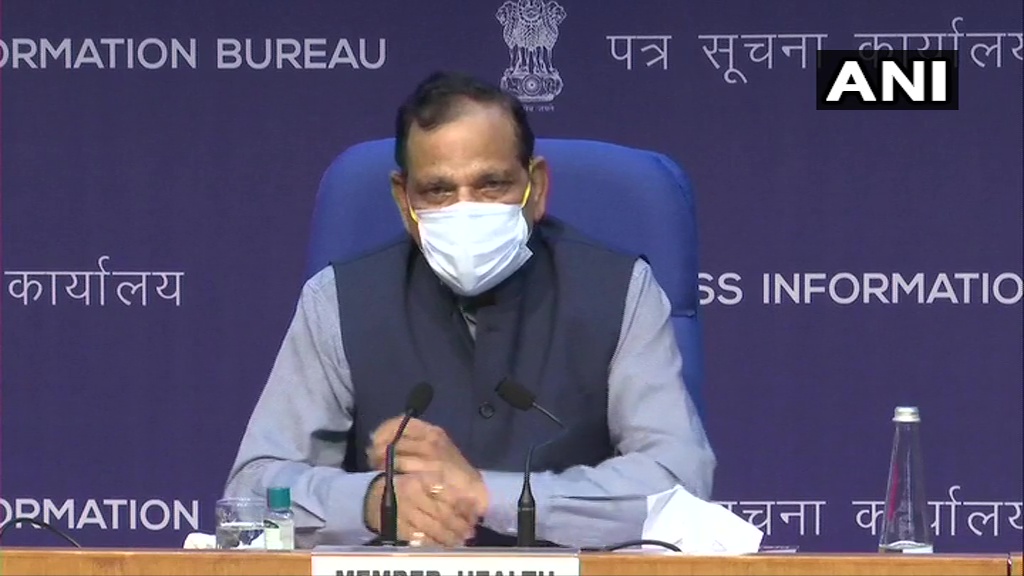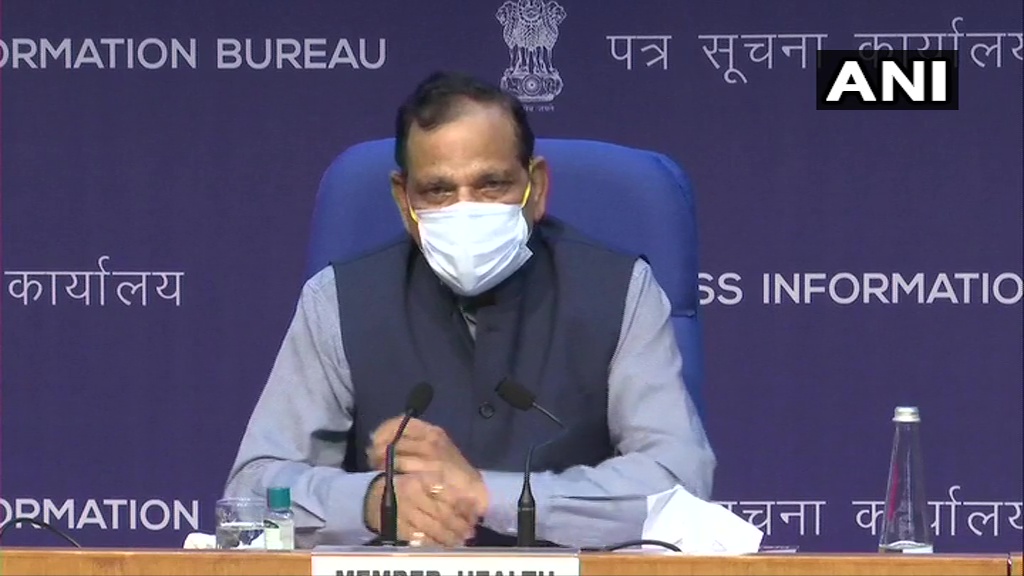 COVID-19 positivity rate has declined from 24.83 pc on May 10 to 12.45 pc on May 22: Govt.
Eight states have more than 1 lakh active COVID-19 cases while 18 states have over 15 pc positivity rate: Govt.
Covishield wastage reduced from 8 pc on March 1 to 1 pc now, while Covaxin wastage decreased from 17 pc to 4 pc in same period: Govt. (PTI)
There are only 7 states that are reporting more than 10,000 cases & 6 states with 5,000-10,000 cases. 6 states are reporting a high number of deaths. These are Maharashtra, Karnataka, Tamil Nadu, UP, Punjab and Delhi: Lav Agarwal, Joint Secretary, Union Health Ministry
There are more than 93 districts where declining case positivity is being noted: Lav Agarwal, Joint Secretary, Union Health Ministry (ANI)
The BJP on Saturday slammed former Madhya Pradesh chief minister Kamal Nath for allegedly linking a coronavirus variant with India and accused the Congress of making frequent statements to "insult" the country and weaken its fight against COVID-19. Senior BJP leader and Union minister Prakash Javadekar told reporters that the Congress was not playing the role of a responsible opposition and had instead fallen to doing negative politics. He alleged that Nath used the term "Indian corona" during an interaction and noted that even the World Health Organisation (WHO) has clarified that any variant is not named after any country. Javadekar said, "He (Nath) did not stop there and said 'hamari pahchan mera Bharat covid'… This is an insult to India. Many Congress leaders are making such statements. Many leaders said this is an Indian variant." (PTI)
Over eight lakh migrant workers left the national capital in the first four weeks of the lockdown imposed to contain the spread of the second wave of the COVID-19 pandemic, according to a report from the Delhi Transport Department. Between April 19 and May 14, a total of 8,07,032 migrant workers left Delhi for their home states in buses, out of which 3,79,604 left during the first week of the lockdown itself. The number started declining from thereon, 2,12,448 left in the second week, 1,22,490 in the third week and 92, 490 in the fourth week. "The timely coordination with transport authorities of neighbouring states, especially Uttar Pradesh and Uttarakhand by the Government of NCT of Delhi has helped about eight lakhs migrant workers to reach their destination without any difficulty," read the report. There were 21,879 interstate bus trips during the four weeks of the lockdown, it added. Chief Minister Arvind Kejriwal had first imposed a lockdown on April 19 which was later extended multiple times, lastly on May 16. (PTI)
Amid escalating cases of black fungus in the national capital, Delhi Health Minister Satyendar Jain on Saturday asked people to be watchful and not resort to self-medication, particularly steroids, and said about 15 hospitals in the city are treating mucormycosis patients. Black fungus or mucormycosis is a fungal infection that affects the nose, eyes, sinuses among patients who are recovering or have recovered from COVID-19. Interacting with reporters, he also said there was a scarcity of drugs needed for its treatment in Delhi and the rest of the country. There were 197 cases of black fungus in hospitals across the city till Wednesday night, including non-residents who have come to the city for treatment, he reiterated. "Earlier, 30-50 cases would get reported in a year but this time, the number has gone up quite big. As it is being found this time a lot in post-COVID cases, so we have to watchful as a large number of people have tested positive in Delhi, several of them put on steroids, and many are diabetic in which case, if sugar level is not maintained, it flares up," Jain said. (PTI)